There are many factors that affect a website's click-through rate (CTR) and some of them are a bit out of radar. Even if your SEO is great and you rank well in search – your website can be affected by small details you may be not aware of. Take Kaspersky URL Advisor Icon (aka "Kaspersky Green/Grey/Red Icon", "K icon" and "K symbol").
What is Kaspersky Green Icon? 
The icon serves to help internet users decide whether to click on a link or not. According to Kaspersky Lab the company "accumulates data concerning web resources to exactly identify whether the website is malicious or phishing". They then show the icons next to the links you see in your search results. The icon can be red (dangerous website), grey (not checked yet) or green (checked and approved by Kaspersky).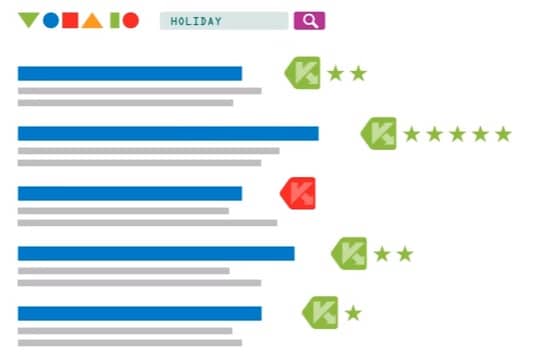 The icon is part of the company's reputation service named Kaspersky URL Advisor and it is "on" by default in their antivirus software products. One could turn the function off but who would want to do that? Most of users will see the icons in their search results. And don't forget – Kaspersky is a one of the largest antivirus vendors with millions of users worldwide!
If your website is safe and it has been around for years – chances are you were checked and your icon is green. However they don't seem to crawl the internet fast, we noticed many established high authority websites still being "grey". Below is an example of a "grey" local government website in Spain (Moz Domain Authority is 58 points!). If the K symbol is hovered over a tooltip will pop up with "No information on website safety (according to Kaspersky Security Network)":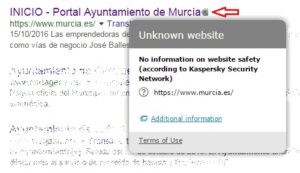 Our own website was indexed by Google, Bing, Yandex and Baidu two months ago but the Kaspersky icon was still grey: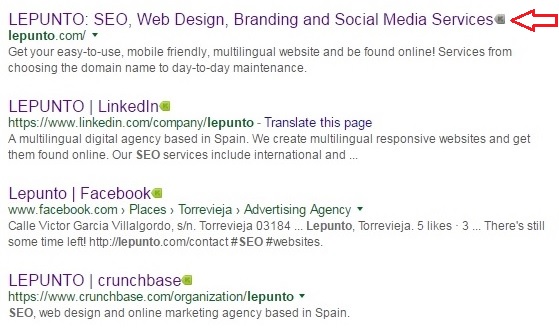 The majority of websites are divided into "green" and "grey" categories. There are very few "red" websites available in Google search (Google itself weeds them out too). In most cases "grey" means that Kaspersky just never checked the site. However the users will perceive "grey" websites as something unreliable. In the actual absence of "red icons" the "grey icons" are the worst served. Grey doesn't mean "infected" but this is what a user will think!
Besides just the appearance in search, the URL scanning service can be a quick way to check your website's security. What if it is red? Even if your site is not infected – what if Kaspersky made a mistake and flagged you "false positive"? It won't hurt to check anyway.
How do you check whether your website is red, grey or green?
If you have Kaspersky antivirus installed you should see the icons next to the your search results. If you don't see the icons check their instructions here
If you don't have Kaspersky antivirus – there's an awesome online tool that runs several URL scanners in one take (including Kaspersky) named VirusTotal. Choose "URL" (they also check files), type in your website's URL and find the result: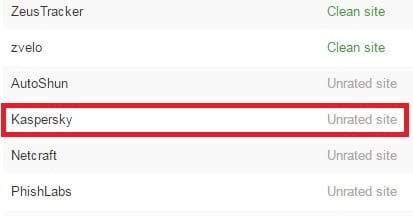 "Unrated site" means grey icon, ""clean site" – green icon. Attention: make sure to check your preferred domain version appearing in Google search (www, non-www or https).
Should you bother if most of other scanners mark you as clean?
Yes, you should, because:
Kaspersky is really large comparing to many other URL scanners you find on VirusTotal having millions of active users
Kaspersky is quite slow to scan websites. It may take months, even years, before they discover and scan your website even if it is high authority
Kaspersky antivirus powers hundreds of services and products by other companies (Amazon Web Services, Zyxel, D-Link, Nokia to name a few) through their partnerships. You never know for sure where else you are being marked "grey" and how it affects your online presence
What do you do if your site is marked grey?
It seems like there's no special page where you would submit your website for scanning (at least we haven't found one). They refer people to their general support page where you search will be indefinite. The easiest way we found is to submit your website to their forum. It is active and they will reply to your posts or just scan your site very quickly.
Here is what you need to do:
1. Register in their forum here: Kaspersky Lab Forum Registration Form (you can do it in English)
2. Submit your "Please scan my website [website URL]" request to this thread: forum thread to post scanning requests. (Update Nov-29-2018: If the link doesn't work, please let us know in the comments, the URL changes every time a new page is added to the thread). To post a request click "Add Reply" or "Fast Reply" buttons. The thread is intended for Russian speaking users but they will react to a post in English. This is a screenshot of our post to the forum: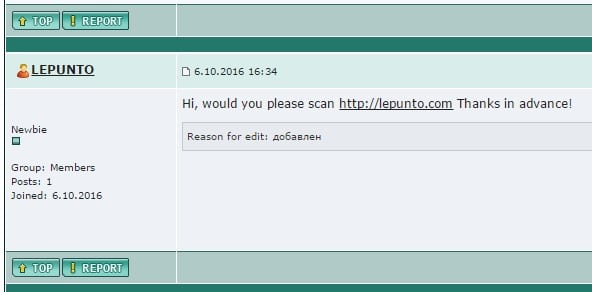 3. Wait until they scan your website (check with VirusTotal or search your site online if your have their antivirus software installed). In our case it took three days for the green icon to show up instead of the grey one.  Voilà, the icon turned green on Google: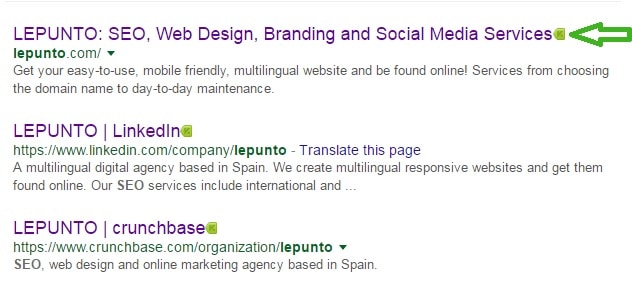 If you website is not scanned after a few days, you will have to post to the forum again and ask for solution. Luckily, we didn't need that for our website.
Conclusion:
While Kaspersky URL Advisor doesn't affect SEO, it can directly influence a website's click-through rate (CTR). Getting your website scanned and approved by Kaspersky Lab is easy and not time consuming (if your website is safe in the first place).
Have you checked your website's safety status with Kaspersky? Need help? Let us know in the comments!