If you are reading this you probably already have a Facebook Business Page, in other words a "fan page". In this post we describe how you can verify your page (with a "gray verification tick") and how you can solve some of the verification problems.  (If you don't have a page yet – we can create one for you as part of our social media services).
Business pages were introduced in 2007, some three years after the launch of the social networking website itself. While Facebook Pages have been in use for more than nine years, there are new features being added all the time.
Verification for local businesses, companies and organisations, the "gray verification badge", is one of them. The badge first became available in the US, UK Canada, Australia, New Zealand in 2015, and then was rolled out to the rest of the world (including Spain).
Update 14-Mar-2017. You can't verify your business page in certain countries. Currently Facebook doesn't maintain a list of the countries where verification is available.
What is a gray verification badge on Facebook?
The gray verification badge is a round-shaped icon with a check mark inside. It appears next to the name of a verified local business, company or organization on Facebook. According to the company having your business page verified means that they "…confirmed that this is an authentic Page for this business or organization".
Take a look at ours: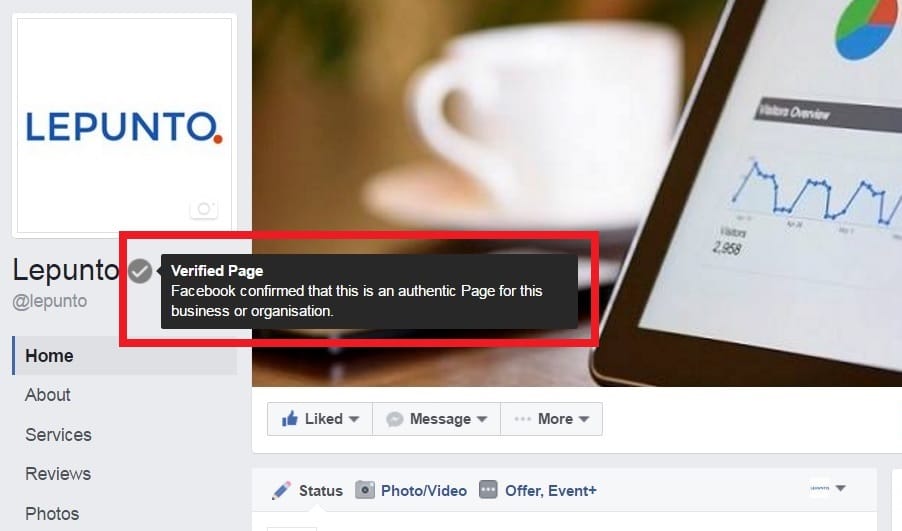 The difference between gray and blue badges. 
Gray badges must not be confused with the blue verification badges that are given to well known brands, public figures and media companies.
A lot of well known brands are not verified with the blue badge despite their huge size and popularity. Take Iberdrola, the Spanish energy giant. It is a publicly traded company with some 30,000 employees and an annual revenue of €30+ billion. While it is known to almost everyone in Spain, its page doesn't have a blue badge. Are they not popular enough?
To the contrary, a gray badge can be obtained by almost any local business. You don't need to be famous, have multi-billion revenues or millions of fans. You only need to be a business with a phone number and an office.
Why verify your Facebook business page?

Verifying your Facebook Business Page is another way to prove Facebook that your business is real. You have a phone and you are able to pick it up! It also means you know where your Facebook Page settings are. Or maybe you hired someone to check all that stuff for you regularly and fix everything. In any case this seems like a normal business to Facebook – the one that has a decent online presence.
Verification adds trust to your Page. Verification alone won't bring sales but every little thing counts. Verified, confirmed, claimed etc. social media accounts are more likely to make customers feel confident. Over time more and more businesses will be getting verified and, finally, an unverified page may start to look a bit weird. Are these people not able to pick up the phone or what?
Now the most important part that immediately brings more customers – Facebook will reward you for verifying your page! The company explicitly said that "Verified Pages appear higher in search results". This argument alone is enough to take immediate action. Keep in mind that this is Facebook SEO, not SEO in general (Google is unlikely to notice your shiny gray badge).
What pages are eligible for verification?
Facebook says the page must meet these criteria:
"Your Page's category is Local Business, Company or Organization"
"Your Page has a profile picture and cover photo"
These doesn't guarantee your Page is eligible, there are some other factors that Facebook doesn't make public. There's an easy way to find out if your page is eligible – check out Setting/General of your page. If the page is eligible, you will see the "Page Verification" section below "Page visibility" and above "Visitors posts".

If you do see the button available – act now, verify your Facebook page before they change their mind. The "verify page" button may disappear at any moment. Not sure why they do this but some pages become ineligible after having being eligible for some time.
What do I do if my page is not eligible for verification? 
If your page is currently not eligible (sorry), you will see nothing between the "Page visibility" and "Visitors Posts" sections:

Facebook doesn't discover the factors they take into account when making pages eligible. Unfortunately, according to the company:
"If a Page is not eligible for verification, you will not be able to request for verification"
We don't have the solution to the problem, but here are some observations:
The number of likes and followers don't seem to matter. Many pages with  very low numbers of followers are eligible. It won't hurt of course but you can't expect that lots of fans and engagement will fix the problem
Facebook is okay with mobile phone numbers, some pages we verified had mobile numbers listed on their pages. Changing the number to landline is unlikely to help you
All eligible pages we saw had at least some posts. Would be interesting to hear from someone who verified a page without sharing a single post.
This is obvious, but still check it out again – all pages eligible we saw had phones, street addresses and were in "local business, company or organization" categories
If you have any ideas about making pages eligible for verification – please share them in the comments below. We may write a post once some solutions are found. You can also subscribe to our newsletter – we'll let you know when new information is available.
How exactly do I verify my Facebook Business Page if it IS eligible?
There's a short description in the Facebook's Help Centre, you can find it here. In short – go to Settings / General / Page Verification / Verify this Page. If you do have the feature enabled you will see two options to continue with the verification process: "verify this page with a phone number" or "verify this page with documents".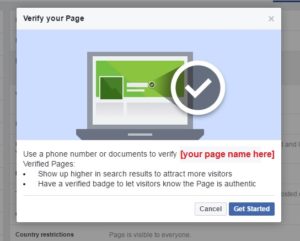 Option #1. Verifying with a phone number.
You will receive an automated phone call from Facebook and they will tell you your authentication code. You should then be able to use the code to compete the verification process. This option is better because you can get the code and verify the page immediately.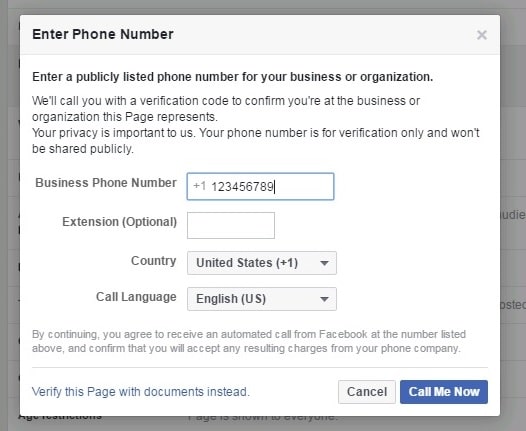 What is a "publicly listed phone number"?
You may think the "publicly listed phone number" is the one listed on your Facebook Business Page. This is not always true. They may refuse to call you and insist on entering a "publicly listed phone number" again and again.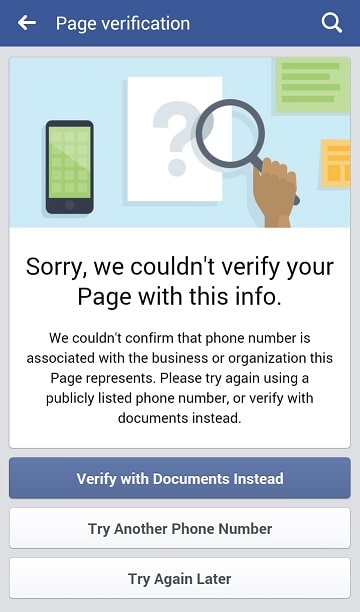 This may happen because Facebook is the only place where your number is listed. To solve the problem – make sure your phone number is listed elsewhere online – on your own website and high quality local or industry directories.
Missed calls from Facebook and the consequences. 
In certain situations you may hit the limit of Facebook calls if you verify with phone, especially if you are verifying a Facebook Business Page for a client. Busy lines, incorrect phone number, poor signal on mobile, mistakes in the code etc. They will call you several times and then you will see this:
"Too many phone calls scheduled by this account. Please wait and try again later."
How many is "too many"? We had this problem only once when we scheduled some ten phone calls. All were missed, Facebook lost patience and stopped calling.
How long should you wait to schedule another call? Some users report the block may remain in place for as long as several months.
Before you schedule the call – make sure the phone number is correct, someone is ready to will pick up the phone and write down the code. Check the signal on mobile.
What to do if you've hit the limit of scheduled calls? 
Facebook wants to keep you waiting for some time (until they lift the block), but you don't have to. There's a simple solution to the problem.
Facebook blocks users and administrators but not the page itself. You need to assign an additional admin (a colleague or friend) and ask them to request another call and enter the verification code. Don't miss that one!
Option #2. Verification with business documents
This is your last resort if you were unable to verify your page with a phone number for some reason (we haven't tried this one yet).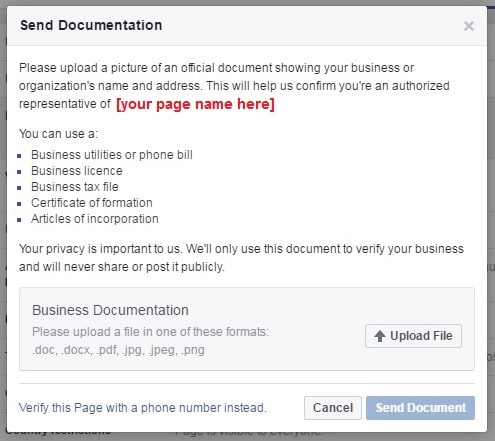 Users report it takes several days if you are lucky. It may take much longer and you won't be able to know the status of your application until the page is verified. Phone is better – you get the result immediately result.
Conclusion
The majority of Business Pages are not currently verified, despite the obvious benefits. Facebook stated that verification of business pages makes them appear higher in search results. Verification adds trust and confirms that the page officially represents your business. While the verification process can sometimes be tricky, most local businesses, companies or organizations can get their Facebook pages verified.
Have you verified your Facebook Business Page? Are you having problems with your Facebook page verification? Any ideas on the topic?  Please comment below, we will be glad to hear from you!