The farewell parties are over in Spain, the rest of Europe, Asia, Australia and South America. The company wrapped up its community managers (CM) programs – no more official Elite Events, full time CMs or sales people outside the US and Canada.
Despite the efforts Yelp has never become here nearly as popular as it is in the US. The social media/review platform will focus on its core markets. No more fresh reviews in Europe?
What will happen to the Yelp app and website in Europe and other countries?
The site and the app will still work but from now on they will be put on autopilot. The automated review filters will continue to work too.
Unlike many other social media networks Yelp relied on communities of real  people who visited local businesses and wrote high quality detailed reviews. Users of other local review platforms like Google Maps, Facebook and Foursquare are not that productive – most reviews are short and often spammy.
Community managers (CMs), the company's employees, did an awesome job in major metro areas organizing events where yelpers met and had fun. The system worked quite well and it was not easy to spam – people knew each other in person.
Will Yelp survive without those active communities? They spent some cash to keep the ball rolling (paid staff, sometimes free events, some gifts etc.), now will it live without that cash?  It's a big question mark. Only time will tell but chances are the activity on Yelp will slowly evaporate.
What does it mean for consumers?
There will be fewer local business reviews you can rely on. Despite all the controversy surrounding Yelp – it has the most trustworthy review system. Other review sites (Google Maps, TripAdvisor, Facebook) are definitely more vulnerable to the review spam.
Ever tried to get rid of dozens of one star ratings thrown at your page overnight on Facebook (by people who never bought anything from you)? Good luck on reporting a fake review – chances are nobody will ever pay attention.
It is much harder to spam Yelp in the first place – they filter out a lot of fake reviews. The social component also helps – users are more likely to trust reviews by people they are connected to (in person or online). The few spammers one would find in Europe were desperate business owners who tried to review their own businesses and who never got past the review filters.
Should business owners still bother about Yelp in 2017 (outside North America)?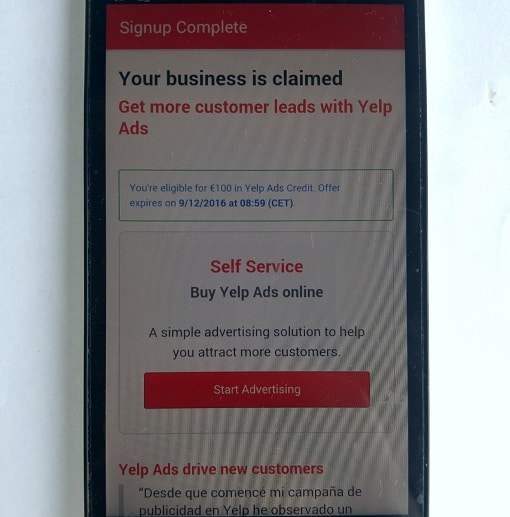 Despite the absence of paid staff, yelpers will not stop writing reviews, posting tips and uploading photos tomorrow. It's still the best place to find honest reviews online. It may take years for the activity to fade away completely.
You should still claim your business listing if you haven't done that yet (here's ours). It is free after all! It's a good practice to reply to all online reviews (good and bad) even if you won't get many of them.
Businesses in large tourist destinations should still pay close attention. If you have tourists from the US and Canada – chances are they will use Yelp to search for local businesses in your area.
Yelp can be a great source of marketing insights for exporters selling to US and Canada. Read reviews to find out what consumers say about your products.
Yelp is still good for local SEO. It may rank lower in Google as activity decreases but will continue to be a high quality local citation.
What do you think of Yelp? Is there a better online review platform? Ever had problems with your business listing on Yelp? Please let us know in the comments below.
P.S. We can list your business on Yelp as part of our local SEO services, please get in touch here.